The Lord has chosen to bless this project beyond our wildest dreams. We believed providing an education would provide the church with young people equipped to be leaders for the next generation. What we didn't anticipate was how God would use these kids. Early on in the project one of our young teenagers named Tafadzwa was stricken with a terrible cancer and died in just a few short weeks. His father summoned Pastor Noah who is the local leader of the Noah's Farm Project in Zimbabwe. Pastor Noah didn't know what to expect from a father who had just lost his son who had been so active in school and church as the project requires. When the two men met Tafadzwa's father explained how happy he was. This statement from one who had just lost a son took Pastor Noah by surprise. He went on to explain that he saw how happy his son was now that someone was paying for his education as well as how much his son enjoyed being an active part of the church. So in return the father who "happened" to be the Chief of a small local tribe told Pastor Noah he could use some of their land. Permission was granted to start church services under a large tree.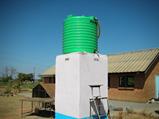 A revival was held and within weeks the average Sunday attendance was over 100! In memory of the young man the church was named Tafadzwa. We since had to change the name to Game Park as all the churches are name after the area in which they are located.
During this time one of the other young men in the Noah's Farm Project named Khulani was in his 3rd year of college. The custom in Zimbabwe during their Junior year is to do an Attachment. Basically it is an "on the job" training program. However with unemployment at approx. 80% it is very difficult to get an Attachment in your area of study. But we serve a God who is way ahead of our thoughts or ideas. God placed Khulani in a government office that is responsible for rural development. While Khulani was there he learned about a little known government program. Effectively if an organization presents a detailed plan for land use and it is approved the gov't leases to them the required amount of land for the project at the rate of $1 per month for 99 years.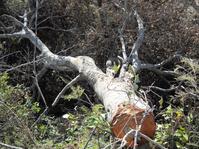 Khulani was a helper at the Mkoba Church and knew of the growth needs of the area. Because he worked in the office he knew the land areas that were available. It just "happened" to be that land neighboring a temporary church was available under this gov't guidelines. So along with Pastor Noah they drew up the plans for a permanent location. Since enough land was available for a church and a neighboring farm the plans were expanded to include a farm that would provide food and jobs for the church people plus the profits would help pay for the children's school fees!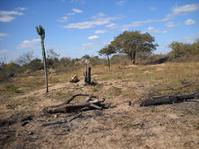 With the lease all signed and owned by the church they are ready to build a permanent church building and a neighboring farm. For the church we primarily need bags of cement. We have already built a fence. The congregation can make the bricks. We call the project Noah's Farm getting the idea from Pastor Noah's first name although we did not name it after him but of Noah in the Bible with the Ark. It reminds us of the animals on Noah's Ark we need to stock the farm and that Noah was an evangelist and we want to spread the gospel.
We hope you will like to help by purchasing a chicken or goat or maybe even a cow. Thank you for helping Noah's Farm.
Who determines which kids are deserving to be in the program?
at this time, any Pastor of any Christian church in Gweru, Zimbabwe, Africa can recommend a deserving child to the projects Administrator. This person then recommends to the three member Board of Noah's Farm who should be the next recipient as funds become available. The Board makes the final decision.

Since there is 80% unemployment what future do these kids have?
Education is the key to getting a job. There are some jobs available but they are going to the well educated.

Are you doing anything to help create job opportunities?
Yes, please click on the folder marked Noah's Farm. It is a fastinating story how one of our students found land that could be developed. This development will include a country church and a farm. The farm will provide jobs through share croping. Similar to the rural development days in the USA.

What do you envision in the long term for this program?
God is really the only one who could answer that question. It has already grown beyond our wildest dreams. We started with 20 kids and in just 2 years have now helped over 60 kids. We never dreamed of having a water well and a garden to produce food and income. The garden was the brain child of one of the original students who we helped. These kids just need a little help to see their individual dreams become reality. So the best way for me to answer the question is to say that we are to a large degree letting this become an African vision not an American idea. What we think is a great idea may lay dormant because it usually doesn't fit the need, the culture, or the situation. If the idea comes from their heart and educated mind it has the formula for success. For now our goal is to develop a self-sustaining farm operation. It has worked in other areas of Africa. The farm will provide food, jobs and profits so the workers can pay for their child's education.

Do the students in the program do anything to help with their school expenses?
in Zimbabwe with 80% unemployment there are virtually no part time jobs that students can do. However, micro business are being established to offer some of these kids an opportunity to earn some money. For example, at one church they have helped plant and maintain a huge vegetable garden. When the vegetables are ready to harvest they help to sell them. Some of the proceeds from the garden help pay the school fees for some of these students.

When you say this is a highly successful program what do you mean?
we have only had to remove two children from the program. Both were getting good grades but did not attend church regularly.

May I contact one particular child and provide extra assistance to that child?
No, this is a key difference between our program and other very worth while programs. When direct contact is allowed then the program's Administrator in Zimbabwe looses his leverage to remove a child from the program for failure to keep their end of the deal. Which is to maintain good grades and regular church attendance. Also, the emphasis is on getting an education to earn their way out of poverty. Most American's don't realize how happy these kids are with a book to read. When my wife and I were in Gweru, Zimbabwe in Aug. 2008 the kids didn't ask for toys they just asked for books. They really just want an education.