ANNOUNCING NOAH'S FARM "BOOK OF THE MONTH" CLUB!
Imagine trying to learn while sharing a textbook with 8 other students…Or being a beginning reader, but having to wait over a week to access the next reading book…Or wanting to look up some information, but having no reference books…Or attending preschool where there are no books at all…Those are the situations that eager students face in underfunded primary schools in Zimbabwe.
Now, for only $10/month, you can provide a textbook, reference book, or reading book to a primary school in a rural community where the Church of the Nazarene is working. That means a new book for students every month!
We are starting our work at Riverdale Primary School, a school in a very poor rural community outside Gweru. As you complete the year, your donations will purchase materials for all of the subjects that are taught in Zimbabwe schools:
January – Early Childhood Development (preschool)
February – Reading books for Grades 1 & 2
March – Reading books for older grades
April – English
March – Shona (indigenous language)
April – Mathematics
May – Science
June – Agriculture
July – Heritage (Social Studies)
August – Religious and Family Studies
September – Visual and Performing Arts
October – Physical Education
November – Integrated Computer Technology
December – Reference books for all grades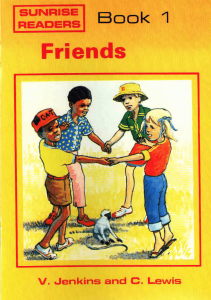 This is the first English reading book young readers will tackle in Zimbabwe–reminiscent of "Dick and Jane." Just a $10 donation will help us provide one for every young reader at Riverdale Primary!
As you give, you can pray for that field of learning and that your particular book reaches a particular student, sparks a joy for learning, helps that student succeed and be inspired for secondary school, and that student becomes an instrument of hope and change in Zimbabwe. In a country with many struggles, you can offer a tangible monthly prayer of hope. And that is where change begins…
Read what a Day in the Life of Riverdale Primary School looks like.