Then I heard the voice of the Lord saying, "Whom shall I send? And who will go for us?" And I said, "Here am I. Send me!" –Isaiah 6:8
Are you looking for the trip of a lifetime where you can serve, be inspired by encounters with God's creation, and make friendships that will span oceans and continents? Then you are ready for a mission trip with Noah's FARM!
Since 2016 Noah's FARM has organized Work & Witness trips to Zimbabwe to serve alongside faithful members of the Church of the Nazarene in and near Gweru in the Midlands Province. These two-week trips, scheduled during the heat of North American summer, let us experience the mild temperatures of Central Zimbabwe's dry season.
Our team stays at beautiful Antelope Park, a property that is a vacation destination within Zimbabwe and also is engaged in wildlife conservation and community development. As you fall asleep in your simple but lovely lodging, you will even hear lions in the Antelope Park conservation program roaring at night!
During the day our local hosts will help us travel to various project sites, introduce us to local foods, and work and worship alongside us. Our projects welcome all types of talents, skills, and interests–from construction to education to rural medical clinics.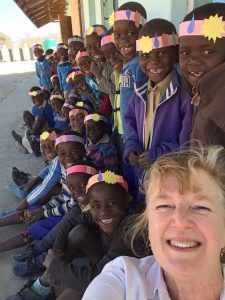 "I wish to spend my heaven in doing good upon the earth." – St Thérèse of Lisieux
Here is a glimpse of a major construction project in 2016 building Woodlands Church of the Nazarene.
(Click images for larger view)
Our Zimbabwean hosts are proud of the beauty of their country, so you won't miss out on those highlights either. Our trip will conclude with a visit to Victoria Falls, known as one of the seven natural wonders of the world, and a lovely spot for a worship service together. We'll also enjoy a safari by both boat and jeep to view wildlife that cannot been seen in the wild on any other continent. It's a trip you'll never forget, and friends that will stay in your heart forever!
Cost of the 14-day trip, all-inclusive, is $4998. For more information on how to join us, please email: Les@NoahsFARM.org.
Images of the rural medical clinics we conducted in 2018.
(Click images for larger view)