Walk with the lions in Zimbabwe, Africa — August 2018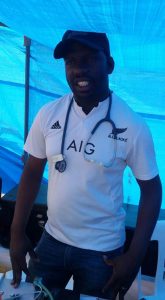 Tamuka
Onsite Medical Mission Coordinator
Zimbabwe, Africa
We are excited that you are interested in participating in a mission trip of a lifetime to Zimbabwe, Africa where they speak English. There are two mission trips coming up in August 2018: A medical Mission and a Construction Project. Both will be a trip of a lifetime. Currently space is limited to eighteen people. The trip will include a jeep safari trip to see lions, crocodiles, elephants, sable, giraffes, and hippos. It also includes a river boat ride and a travel day to Victoria Falls, one of the seven natural wonders of the world! During August, the temperature is typically in the high 70's with evenings in the low 50's during this dry season in Africa.
A typical itinerary includes leaving the USA on a Thursday arriving in South Africa on Friday evening. After spending the night in a hotel near the airport take a Saturday morning flight to Zimbabwe and then driving to Antelope Game Park in the heart of Zimbabwe.
The weekend will include a guided walk with the lions and attending a Sunday Service where you can choose to participate in the service if desired. You will also have the opportunity to enjoy an African meal and visit an African hut. Monday through Thursday will be full day medical trips to rural areas or a construction project to build a small rural home that will include a solar system to power a water well and lights for the home. Other optional projects will be available. These fourteen days will leave you with a lifetime of satisfying memories knowing you have improved the quality of life of very needy people.
All-inclusive cost including airfare is $4,998 plus pre-trip costs for passport, shots and souvenirs.
To be a part of this amazing medical trip email: Tamara@noahsfarm.org